Fire and Police
Lakeview District Fire Department
The Lakeview District Fire Department is located at 117 Park Street in Lakeview.

Not only does the LDFD serve the needs of the Village of Lakeview, It serves the needs of our neighboring township's: Cato, Hinton, Pine and Winfield.


The departments operations are overseen by the Fire Board which is comprised of member's of the township's Board of Trustees. The Fire Board appointed Pat Carr as Fire Chief to direct the department's day-to-day operations and oversee a staff of 29 volunteer firefighters.  The Fire Department also has Auto-Aid agreements with other townships to help in the event of an emergency.  All funding for the Fire Department comes through township taxes.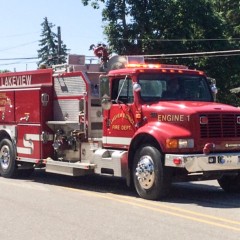 Contact Pat Carr (Fire Chief) at 989-560-2858, Chris Bunker (Asst. Chief) at 616-915-3673 or Bob Griffes at 989-352-6101 for burn permits.
Reports
Visit the LexisNexis link below to obtain a copy of your Crash Report. Have your report number and other pertinent information available.

For customer assistance, please call the LexisNexis support line at 866.215.2771.
Visit Online:
LexisNexis

Police Department
Darin Dood, Chief of Police

The Village Police Department is located at Village Hall, 315 South Lincoln Avenue.

We currently have two full time officers and five part time officers.

If you have an emergency and you need an officer, please call 911.

Lakeview Police: 989-352-6211
Dispatch Center: 989-831-3500
Emergency Dispatch: 911



Lieutenant Bill Russell


A few of Lakeview's finest from Left to Right:
Officer Braunschneider
Manager & Chief of Police, Darin Dood
Officer, Ludwick
Officer, Hansen
Quality of Life Award
The Lakeview Area Community Fund presented the Quality of Life Award to Chief Dood and the Village of Lakeview Police Department on behalf of the Lakeview Community. The LPD excel in their commitment to enhance the quality of life for our community and consistently provide excellent service to the residents of Lakeview. Thank you LPD!
Quick Links:
How May We Help?
Village Facebook
Village of Lakeview
208 S. Lincoln Avenue
Lakeview, Michigan 48850
Phone (989) 352-6322
Fax (989) 352-6378
Emergency: Phone 911