Welcome to the Village of Lakeview and Cato Township
Montcalm County, Michigan
MUSIC IN THE PARK & TAMARACK DISTRICT LIBRARY
Follow the link below to give you up-to-date information on our Music in the Park series and the programs taking place at Tamarack District Library.
Visit Online:
MIP/TDL

Don't be a victim!!
Four Signs That It's a Scam
1. Scammers PRETEND to be from an organization you know.
Scammers often pretend to be contacting you on behalf of the government. They might use a real name, like the Social Security Administration, the IRS, or Medicare, or make up a name that sounds official. Some pretend to be from a business you know, like a utility company, a tech company, or even a charity asking for donations.
They use technology to change the phone number that appears on your caller ID. So the name and number you see might not be real.

2. Scammers say there's a PROBLEM or a PRIZE.
They might say you're in trouble with the government. Or you owe money. Or someone in your family had an emergency. Or that there's a virus on your computer.
Some scammers say there's a problem with one of your accounts and that you need to verify some information.
Others will lie and say you won money in a lottery or sweepstakes but have to pay a fee to get it.

3. Scammers PRESSURE you to act immediately.
Scammers want you to act before you have time to think. If you're on the phone, they might tell you not to hang up so you can't check out their story.
They might threaten to arrest you, sue you, take away your driver's or business license, or deport you. They might say your computer is about to be corrupted.

4. Scammers tell you to PAY in a specific way.
They often insist that you pay by sending money through a money transfer company or by putting money on a gift card and then giving them the number on the back.
Some will send you a check (that will later turn out to be fake), tell you to deposit it, and then send them money.

What You Can Do to Avoid a Scam
Block unwanted calls and text messages. Take steps to block unwanted calls and to filter unwanted text messages.
Don't give your personal or financial information in response to a request that you didn't expect. Legitimate organizations won't call, email, or text to ask for your personal information, like your Social Security, bank account, or credit card numbers.
If you get an email or text message from a company you do business with and you think it's real, it's still best not to click on any links. Instead, contact them using a website you know is trustworthy. Or look up their phone number. Don't call a number they gave you or the number from your caller ID.
Resist the pressure to act immediately. Legitimate businesses will give you time to make a decision. Anyone who pressures you to pay or give them your personal information is a scammer.
Know how scammers tell you to pay. Never pay someone who insists you pay with a gift card or by using a money transfer service. And never deposit a check and send money back to someone.
Stop and talk to someone you trust. Before you do anything else, tell someone — a friend, a family member, a neighbor — what happened. Talking about it could help you realize it's a scam.
Visit Online:
FBI scams and safety

Quickly Find What You Need.
Looking for information from the Village of Lakeview?

This website is designed to help you quickly find what you need.

1) Check the Menu Tabs at the Top of Each Page. All of our website pages appear under these tabs. We've organized them by use and topic.

2) Check the Quick Links Column. These links connect you instantly to some of our most often-used website pages.

3) Check the "How Do I...?" Page. We've prepared some common Question/Answer scenarios to guide you.

4) Use the "Search Our Website" Page. Our search engine looks through every page, article, document and link posted on our website to find exactly what you are looking for.

And of course, you can telephone Village offices anytime during business hours at (989) 352-6322. Our staff is happy to help you with any question or concern.
RECYCLING
Located at 208 S. Lincoln Ave, the site is super easy to use. Follow the instructions on the side of the dumpsters and the machine will do all the work. Yes, you will see buttons, but you do not need to push them. The machine will sense when it is full and needs to be compacted and do all the work for us.
One machine is CARDBOARD ONLY and the second machine is PLASTIC. The sign identifies every item that can be recycled.
Let's all work together to use this site as it is intended and make our planet a cleaner place to live.
If you have any questions please call Village Hall at (989) 352-6322

*If the red light is blinking that means machine is ready to use. If not, the machine is full and/or needs assistance.
LHS ALUMNI SCHOLARSHIP FUND
Several LHS Alumni have worked with the Lakeview Area community Fund (LACF) to launch the
LHS Alumni Scholarship Fund. The LHS Alumni Scholarship Fund will be used to support one or more scholarships annually for seniors beginning in 2021. The amount and number of scholarships awarded will be determined by the level of giving from LHS alumni and friends of LHS. Preference will be given to students based on their financial need. Special consideration will go to those students who work, apprentice and/or participate in community service and/or extracurricular activities while attending Lakeview Community Schools.

If you are interested in donating to the LHS Alumni Scholarship Fund you can go online at ​https://gacfmi.org/

or send a check to Lakeview Area Community Fund c/o GACF, 225 N. Lafayette, Greenville MI 48838.

All donations are tax deductible.
VETERANS MONUMENT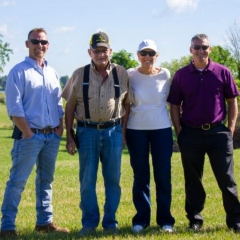 John Grawburg has been looking forward to the day he could place a monument in Lakeview to honor the sacrifices made by all veterans and the families back home who supported them.
If you would like to donate, click the following link and it will direct you to the Lakeview Area Community Fund. https://gacfmi.org/
Select GIVE NOW.
Enter your name and email address.
Under Division of Funds highlight LAKEVIEW AREA COMMUNITY FUND.
Under LACF Funds highlight LAKEVIEW AREA VETERANS MONUMENT FUND located near the bottom of the list.
Continue entering your information and submit.
You can also stop by Village Hall and pick up an envelope and mail in your donations.
Thank you for your support.
Dispose of Expired or Unwanted Prescription Drugs or Sharps
The Village of Lakeview provides a Safe Prescription Drug Drop-Off program for our community. Residents can drop off unused or expired prescriptions into a secure box at the Village Offices located at 208 S. Lincoln Ave.

The Lakeview Police Department will collect the contents and prepare them for disposal that is eco-friendly and in accordance with federal and State Laws. If you have any additional questions please contact our Lakeview Police Department at 989-352-6211.

Please see the attached flyer for our Community Sharps Disposal Program.
Lakeview's History
Take a look at the Village Historic Downtown page to see long-ago photos of Lakeview and learn more about our community's history.
Quick Links:
How May We Help?
Village Facebook
Village of Lakeview
208 S. Lincoln Avenue
Lakeview, Michigan 48850
Phone (989) 352-6322
Fax (989) 352-6378
Emergency: Phone 911